All Day
DJ – Stephen Yau
10:00 am 

TBA
---
11:30 am
Winston Matsushita Trio

---
1:00 pm
Los Tambores

---
2:30 pm 
Las Estrellas de Vancouver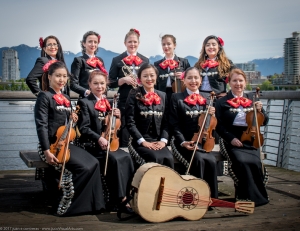 Mariachi Las Estrellas de Vancouver is Canada's only all-female Mariachi band. Since it began in September 2014, the group has gathered some of the most highly skilled woman musicians in Vancouver and has developed a devoted following and a lot of interest in and out of the local Latin community. The group has hosted sold out self-produced events with visiting musicians and scholars from San Diego and LA. We have also been showcased in one of the largest Latin Festivals of the Pacific Northwest – Carnaval del Sol 2016. The repertoire is very traditional and we play many of the most popular Mexican songs in many genres and from most regions in Mexico.
We are part of the movement of women in Mariachi and strive to bridge the gender and cultural gap. To continue this movement, we will be participating in the first ever International Women's Mariachi Festival in Mexico in June 2017. The hosting Mexican group will then visit Vancouver in August along with one of our greatest inspirations Dr. Leonor Xochitl Perez who has studied the history of women in Mariachi for the past 20 years. We are honoured to be a part of this history and we would like to make you a part of it, too!
Group contact:
Michelle Cormier
estrellasdevancouver@gmail.com
604 440 2355
---
4:00 pm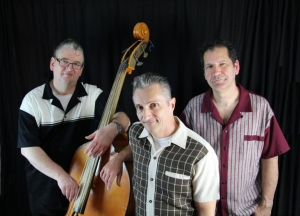 The Palomars are a rockabilly and hillbilly swing combo made up of some of the stalwarts of Vancouver's roots scene. Taking high energy rockabilly, mixing in some uptown hillbilly jazz, and film noir, the combo will get you jumping in no time. Since releasing their "Out Of  The Past" Album and subsequent singles, the Palomars have received international interest, plays and reviews reaching fans across North America to Europe. "Your album is brilliant, one of the best of the year, will be at the top of our radio" says DJ Chema Valbuena (Spain). When The Palomars are performing you can always guarantee a packed dance floor.
---