10:00 am 
Kaya is a 19-year-old musician from BC.  She is currently a student in Capilano University's jazz vocal performing program. Kaya sings and plays the guitar and piano.  Kaya can be seen around town playing at community events, festivals, outdoor concerts, and sporting events.
---
11:30 am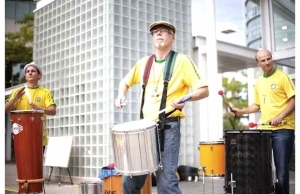 Drum Syndicate is a world percussion trio that presents a dynamic and interactive performance. Part concert, part workshop, we invite the audience to join in the excitement. Playing high-energy traditional music from Africa, Brazil and Cuba. Drum Syndicate brings tropical heat to anywhere they play!
---
1:00 pm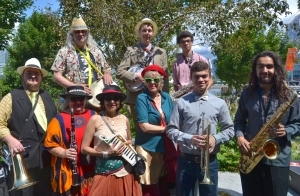 The Drive Street band is a community band based in East Vancouver. They rehearse every Sunday at the Britannia Community centre. They have been performing for 8 years now.Led by Cory Sweet on the Helicon and Trevor Whitridge on Trumpet. It includes musicians of all ages from around Vancouver, BC. They play a variety of music from jazz, dixieland, old timey tunes, latin, tango and some funk too! Find them at festivals and special events around Vancouver. Bring your dancing shoes and join this party.
---
2:30 pm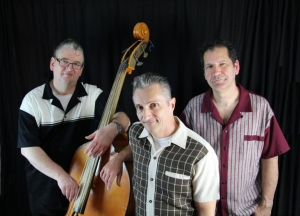 The Palomars are a rockabilly and hillbilly swing combo made up of some of the stalwarts of Vancouver's roots scene. Taking high energy rockabilly, mixing in some uptown hillbilly jazz, and film noir, the combo will get you jumping in no time. Since releasing their "Out Of  The Past" Album and subsequent singles, the Palomars have received international interest, plays and reviews reaching fans across North America to Europe. "Your album is brilliant, one of the best of the year, will be at the top of our radio" says DJ Chema Valbuena (Spain). When The Palomars are performing you can always guarantee a packed dance floor.
---
4:00 pm
Stone Fence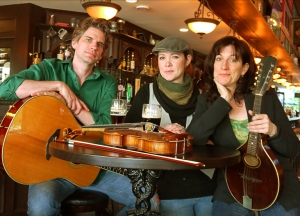 Stone Fence brings together the creative musicality of Caitriona Murphy, Stephen Bulat, and Zoë Robertson.  Hailing from different parts of Canada, they found each other in Vancouver and embarked on a musical journey blending celtic traditionals with Canada's own folk music, contemporary pop, rock and beyond.  Each brings their own personal tastes to the group, resulting in a diverse song list built from many decades and genres.  With something for everyone, their lively, rich arrangements are sure to get toes tapping toward the dance floor.