Welcome to the Steveston Dragon Boat Festival, the Lower Mainland's second largest dragon boat festival! Enjoy the last few days of summer at Richmond's Steveston Harbour, as 72 teams celebrate another great season out on the water.
Race Information
Registrants in all divisions (Mixed, Women's, Junior) will race once on a 250 m course, and three times on a 500m course. Team managers will be notified through email of any Specialty Cup races, and how to register.
Race Registrar
Race registrar tent will open at 7:30 am.
Regulations and Rules
All races at the Steveston Dragon Boat Festival are held in BuK boats. IDBF 202a wooden paddles and approved lifejackets will be available for racers to use. Please note that all racers must wear lifejackets at all times on the water.
Paddlers are allowed to bring their own lifejackets and paddles. Paddles must meet the IDBF 202a specification for use at Dragon Boat BC events. Paddlers supplying their own lifejackets must ensure that the lifejackets are approved by the Department of Transport (DOT), Canadian Coast Guard (CCG) or Department of Fisheries and Oceans (DFO). Inflatable life jackets are not allowed at Dragon Boat BC races.
Rules of racing and can be found online under Downloads. Waivers for adult teams are completed online. Rosters are completed online, but printed out and submitted to the Race Registrar on site at the Festival. Waivers and rosters for junior teams or paddlers under 18 can be found under Downloads, and must be submitted to the Race Registrar on site at the Festival.
Please note that there is no manager or steersperson meeting for the Steveston Dragon Boat Festival. The Steveston Dragon Boat Festival will not require that women's teams have a female steersperson. Women's teams at Steveston may have a male steersperson.
Location
The event is located at Steveston Village, Richmond BC. Britannia Heritage Shipyard (at Westwater Drive and Railway Avenue) to Imperial Landing. If using GPS or Google maps use: 4180 Bayview Street, Richmond BC.
There will be a drop-off area for equipment and paddlers at this location.
Parking
Is available at the T Homma School, which is located across the street from the Britannia Heritage Shipyard at 5180 Westwater Drive. Parking is available for a suggested donation of $5 (all proceeds to Richmond Food Bank). Parking is very limited so please plan to carpool. The parking lot will open at 7:00 am precisely.
Tents 
Please bring your own.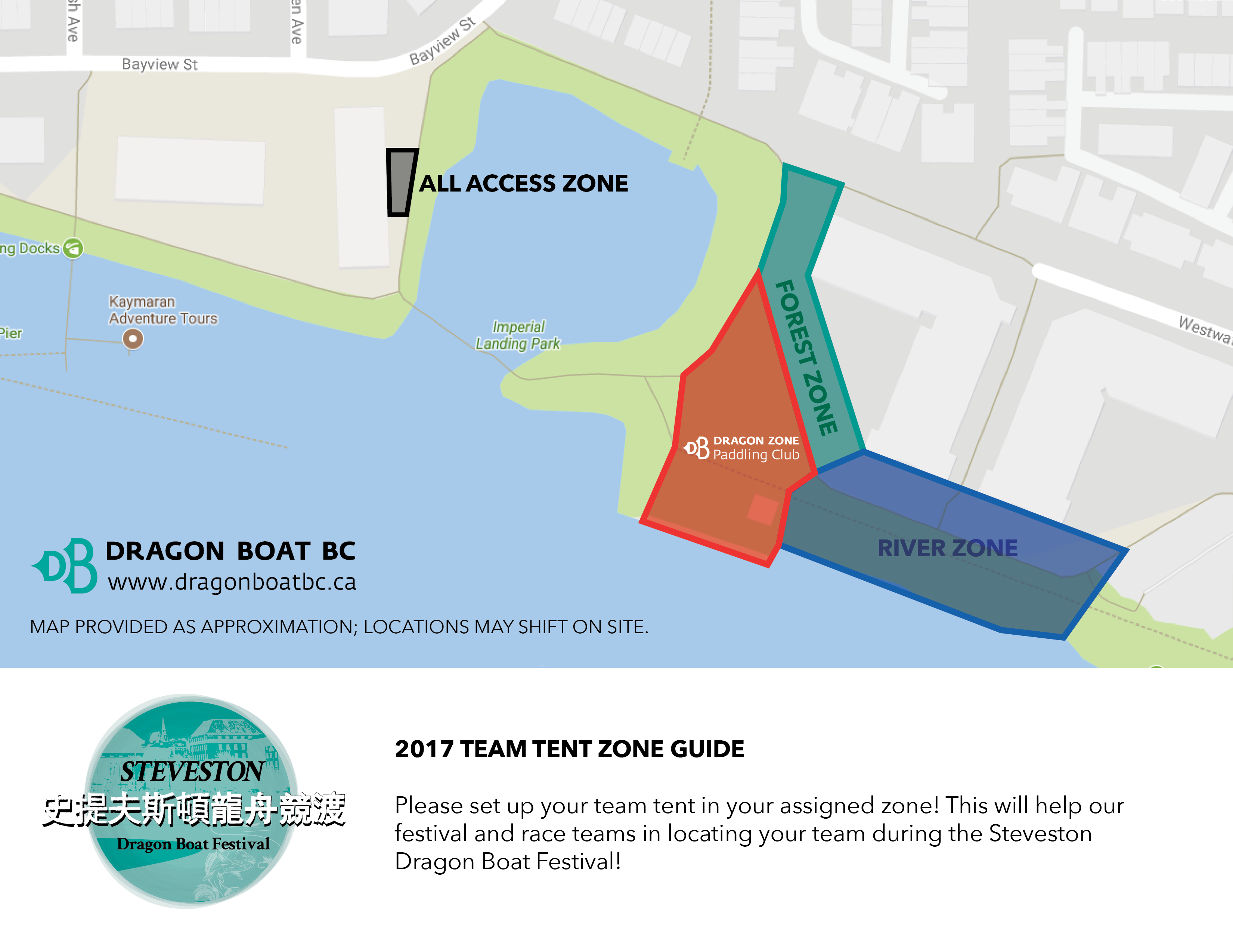 Medal Ceremonies 
Immediately after the last race at the paddlers party! Paddles Up!